Blog
Interview with Golf Clap 16.05.2016
 Because of their gig in Prague we asked them few questions. It turned out to be a great interview loaded with interesting ideas. Let's dive deep into Golf Clap's journey and see them live 05/20/2016 in Pekelnej bar.
- Why name Golf Clap? As I found on Urban Dictionary, "golf clap" is kind of applause that is "given" on golf tournaments. Does it have to do something with somebody secret addiction to golf? Or you just like wearing golf shorts and polos shirts? :D
(Hugh) - The term was originally used as a show of mild appreciation for something first, To put it into perspective there is a standing ovation, an applause, then a golf clap. Neither of us were really into the sport before Golf Clap. Hugh played a bunch last year but its quite a tough sport and we have so much on our plates already.
- I know you met online first. How long do you know each other and what did you do before you both started doing it full time as Golf Clap?
(Hugh) - We were both involved in our own musical projects initially, which led to our introduction through my first label Coyote Cuts. Over the course of a year or so Bryan started making more and more trips to Detroit until he eventually just stayed and thats when Golf Clap started.
- As far as the Golf Clap sound, you both made a "switch" to deep bass sounds. What was the driver of that decision?
(Hugh) - I think alot of it really came down to what is current and making people dance these days. We wanted to stay true to our house roots but give it a little more punch. Alot of kids are coming from dubstep and trap roots and the bass seems to bridge the gap between those two worlds.
(Bryan) - I kinda remember how it started actually. We were playing a bit deeper and a bit slower, then sometimes when the club was packed we would play something like a Low Steppa song and people would flip out. So we slowly started playing a bit more of that out as time went on. I like stuff in all subgenres of house and techno, so I'm just trying to play the stuff that particular crowd would like the most out of my selection of music.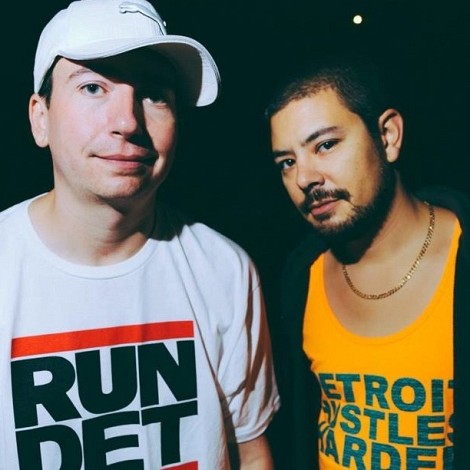 - I still have a lot from Coyote Cuts tracks, but somehow I have this label connected strongly to Wattie Green. I am curious, how did you managed to find and sign such talent?
(Hugh) - I actually had to stop and think how exactly i met Wattie. I believe i heard a few of his early tracks and just hunted him down on the net and made friends. We got to see each other for the first time in a while in Nashville last week and it was a really awesome time.
(Bryan) - That's how Hugh and I met initially. I was into Wattie's music and was doing something for his Coyote Cuts label that he ran with Hugh.
- Hugh, you're from the Detroit area originally, how the city that gave birth to Techno evolved during the years?
(Hugh) - I've been fortunate to have seen several generations carry the flag over the years and even more fortunate to get to experience some of the earlier events that shaped what Detroit underground is today. Each generation has brought innovation and improvements to the last. I would say that Detroit is in one of the best places musically that its ever been. I think embracing future technologies is the key to growth no matter where you are.
- Bryan you've spent a lot of time in Chicago and I guess that also left some mark in your music taste? How is Detroit compared to Chicago? And where do they do better pizza? :D
(Bryan) - I'm from Indiana originally (about 3-4 hour drive from Chicago and 3 hours from Detroit) but I initally only went to Chicago parties and was obsessed with Chicago house. At first I was really only into filter disco house stuff, then I slowly started appreciating other subgenres of house/techno. Coming to Detroit really had a big impact on me musically. I would play a show and noticed that anything with jazzy, disco, or vocal house vibes just didn't go over very well. They don't necessarily always want to hear techno in Detroit, but they like things to be a bit more touch and gritty in general. After you play enough times in front of a city, you start to figure out what they are into. As for pizza, I've found awesome pizza in both cities actually. Chicago is a bigger city so they have more places naturally.
- I heard your sound could be even for after-after party inspiration, that is why you made 24 hour mix? 
(Hugh) - We love to play a wide range of stuff but our favorite has to be the late late night sets for just a few friends. Those are always the most memorable nights
(Bryan) - Initially searched on google to see how long of a mix you can upload to soundcloud. It said 6 hours and 45 minutes. We made a 6 hour 45 min mix of all deep house stuff first. Tried to not put any vocals or things that would get played out quickly on it. Wanted it to be a mix you could leave in your car for weeks/months. After making that mix, we got booked for Movement shortly after and just wanted to do something crazy to bring some attention to it. We had to upload 4 seperate 6 hour mixes (one of them was taken down) in a playlist. Was fun to do, but only the diehards made it anywhere through the first mix let alone all 4.
- Your label Country Club Disco is pushing your sound even on vinyl, what is your take on vinyl "ressurection". Do you still play vinyl in club these days?
(Hugh) - We love vinyl and have always tried to offer our music on as many formats as possible. It's definately making a come back but on the same token a lot of people are using vinyl as a way to separate themselves from the scene as opposed to uniting people which is a little off.
(Bryan) - We both played vinyl when we started. To me, what makes djing fun is being able to play my favorite songs at that moment to people on a dancefloor. If we played vinyl, we wouldn't be able to play most of the new music that we're excited about. In fact, almost none of it. Plus, we use a lot of the looping features and effects and do a little bit of live remixing when we play, so we use the CDJs.
- What are the plans for your label for future? Any interesting releases?
(Bryan) - We are actually very excited about what is to come on the label. We hired a new label manager in the UK who has helped take some of the administrative workload off of us so we can focus on finding the music for the label. We just lined up a huge list of projects spanning all the way through the summer. We are also taking a bit more uptempo, techy, vibe to a lot of the projects coming out soon. Look for some stuff from DJOKO & Luca Secco, Dennis Quin, Coeus, Jafunk, MRJ, Skapes, and more. Also, have a new compilation coming out with songs/remixes by Andres, Bit Funk, Catchment, and more.
- You are very busy djs, playing I think now few years, almost every weekend (150 gigs in 2014?). What was your favorite venue or party so far and why?
(Hugh) - Output NY - consistantly has been the best overall place we have played for the last few years. From the production, staff, sound, and people I just can't say enough good things about that place. A special mention should go out to Mean Red in NY for keeping the Golf Clap strong in NY
(Bryan) - Going to have to agree. Other places we loved playing include: Sound (LA), Vinyl (Denver), & Primary (Chicago)
- In your home club, Grasshopper in Detroit, you are not only djs, but also the creative heads behind the music with massive headliners for relatively small venue in Detroit. How do you manage both roles as a dj and as a promoter having packed club?
(Hugh) - In short i don't manage it, it manages me. There really isnt ever enough time in the day to do both so I rely on a great team to help make my crazy ideas come to life.
- You are known as good promoters, can you share with us what is the main difference between you and usual promoter barely making even?
(Hugh) - Experience is the key, I don't know many people in the business that just started doing amazing from the get go. There is nothing that can really fully prepare you for doing events. So much can go wrong, and no matter how many shows you throw something new will always come up.
(Bryan) - Agreed on the experience thing. Also, the more shows you throw, the more of a following you start to develop for future shows.
- One of your dreams few years back was to bring Kerri Chandler. That happens (04/22/2016), so what are your other hot picks you wish to bring to Detroit?
(Hugh) - This will be our second time having Kerri out now (which is a dream all over again). As far as future shows we will have to wait and see what comes up. There is a lot of politics involved in talent buying and its not always so simple to just pick who you want.
(Bryan) - Kerri Chandler is the most professional, prepared, and legendary DJ we've ever booked. He shows up early for soundcheck. He has an eq for the house sound put into the booth. He is a sound tech as well so he tunes the room. He plays about 30 mins for soundcheck to make sure everything is solid. Every question we asked him, he was a wealth of information and gladly shared it with us. Then he played an extended set, got on the mic and thanked the crowd multiple times, and was just a pleasure to have out all around.
- And what are your other dreams and plans for future?
(Hugh) - We are living our dream, but would love to be wealthy on a tropical island too.
(Bryan) - A lot of crazy, unexpected things happen in this business. I'm just here for the ride.
- You are coming to Pekelnej bar to Prague, I have to ask, have you ever been to Prague?
(Hugh) - Neither of us have been to Prague but all we've heard is great things about the people, the food, and the scene.
- We are looking forward to your party in Prague, any advice for us for which we should prepare?
(Hugh) - Get lots of rest, drink plenty of fluids, leave an emergency contact on a bracelet or necklace just in case. We'll see you soon.
Questions asked by PIF, April 2016. Thanks to www.pekelnejbar.cz