Blog
Interview with Trevor Vichas 29.10.2012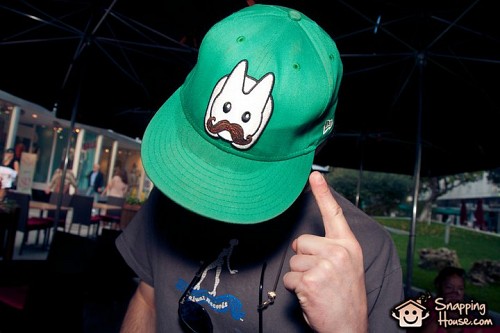 We interview Trevor because his visit in Europe and in Pekelnej Bar. He also showed us some nice pictures of his studio and talked about his process of making music.
Hey Trevor, we are excited to have you in Pekelnej bar. Is it your first visit to Prague? Did you get any word from fellow djs and producers who been to Peklo or Prague?
Trevor: This will be my first time to Prague. I've got a couple of extra days in the city and i am looking forward to do a little sight seeing. I've heard from a number of fellow djs, producers, family that have been to Prague and they all had an amazing time. Really looking forward. I can't say that I have heard anything about Peklo, but i haven't asked anyone either.
Can you introduced yourself for clubbers who might not know you? I know you started in early 90s, how was your development with djing and production, what was the motive to do start doing that?
Trevor: My name is Trevor Vichas, I hail from Portland, Oregon. I am a serious HeadHouse and make grooves to move your feet. Check out my bio for the highlights on my releases and gigs. Honestly, It's really been quite a slow development.
I was introduced to house and techno in the early 90s. The first time i went to a warehouse party and watched Kenny Larkin do work in the mid 90s. I was hooked at that point, my record collection started and I got my first pair of decks a couple of years later.
I used to play around with rebirth and a few others computer apps for hours on end while I was learning how to dj.
It wasn't until going to Winter Music Conference in 2007, that i start really taking my dj'ing and starting production work seriously. I started to figure out the production side of things at that point Over the years I've worked in Reason, Acid, Logic, Live, Cubase and outboard hardware now. It's a mix of cubase and hardware these days. I would like to be working on all hardware all time soon. Need more cables...
I always have had to balance work or school, so music doesn't always get as much time as I would like. I would be more than happy to do music full time. My oldest brother and Tommy Largo have been big influences and mentors on my production work, Can't thank them enough. My motive, I love house music and it is turning into a hell of a job.
Could you little bit tease us with what we can expect from you in Pekelnej Bar?
Trevor: Ha, thinking i will playing a bit of random syncopated frat noises with lost of cowbell. I've been into some of the new garage tunes coming out. It'll be a good mix of deep jacking tunes mixed some classic tunes from me.
We are looking forward to 7/6 at Pekelnej Bar. Thank you for interview Trevor!